"Lower the music, guys, one second."
Guillermo del Toro was mid-acceptance speech at Sunday night's Golden Globes when the orchestra began playing him off.
"It's taken 25 years [to win this award]," The Shape Of Water director laughed. "Give me a minute. Give me a minute!"
Not only did his demand prompt cheers from the audience – but it was also effective, as the orchestra did in fact back off and allow him to finish.
Del Toro went on to complete his speech, later praised for its poignancy, in which he stressed that making movies had "saved his life" on three separate occasions.
"I understand that there's a show to run and I understand that they needed to get going," the director tells BBC News.
"But there is also the need [for the winner] to acknowledge a few people that were integral to the process of the movie, and to finish your thought."
The camera panned to del Toro as she said it, but, he explains now, he hadn't initially heard what she said.
"From where we were sitting, sometimes what is said on the stage in the microphone is very hard to hear," he says.
"It's one thing on TV, and one thing around [the auditorium]. I heard the category, and I was reacting to that, and it was only a few beats later that you heard what she said.
"So all the reactions in the room were delayed by a couple of beats. On camera they happen faster because the microphones were much clearer to the TV than in the room."
Twitter erupted with praise for Portman's efforts to draw attention to the gender imbalance in film directing.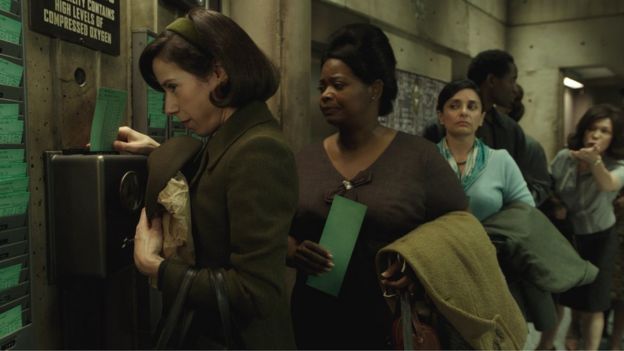 And del Toro says he "absolutely" agrees more women behind the camera should be recognised at awards ceremonies.
"Particularly in this year, with the movies that Greta Gerwig [director of Lady Bird] or Patty Jenkins [Wonder Woman] have made, it's very important I think to recognise it.
"There is a reason to do it, there is material to do it. The important thing is to recognise this season there are films that are very worthy, made by very good female storytellers."
Del Toro is riding on the crest of a wave at the moment. Shortly after the Globes ceremony, he heard The Shape Of Water had also picked up the most nominations (12) at this year's Bafta film awards.
"It felt fantastic… you feel elated to be in the conversation," he says of the Bafta recognition.